In which Mrs. Tell opines on the lost cause of equity; boasts about her cherry cordial; remembers her youth; suffers an epiphany. 
Mrs. Tell
We expected Miss Maria back by now, but she has wrote that she'll visit Miss Juliet in London before she returns here to Longmeadow. I am glad that she ain't in a rush for home, for she needed a holiday which talking to crowds in fancy halls ain't my idea of it, but I then I ain't high born. Perhaps she'll find a little fun in London. I recall that when she and Mr. Charles was first married, they used to enjoy the theater which there ain't none of that here at Longmeadow so maybe she's missed it. Maybe she'll watch Miss Julie sing which we hear she's very popular.
I am grateful to Mr. Somerday for fixing things the way he did. First, he pushed Miss Maria to go, for he saw her misery around that gypsy and that she needed some new air. And he was as good as his word and has helped Miss Alta plenty on her rounds. Also, he told Miss Maria that Miss Alta's doing splendid at her task of minding Longmeadow.
"I wrote that Alta is doing a masterful job," he told me. "I bespoke her praises quite ardently and told Mrs. Pendergrast that she ought not to hurry home."
He sort of twinked at me when he said it, if you take my meaning, and I twinked back. We didn't say the words but I think we was both thinking the same thing: that it's good for Miss Maria and Miss Alta both. Miss Maria gets a holiday; Miss Alta has a chance to come out of her shell, some.
"Mr. Somerday," said I, "Would you like a sip of cherry cordial? I made it last summer and it ought to be right just about now."
I fetched him a glass and watched while he drank it. He smiled which it's the best cordial I have ever tasted if I do say so. We all like Mr. Somerday for he is a sunny person and polite.
And indeed, there he is, is regular as sunrise, ready for rounds with Miss Alta each day. This very morning, he climbed into the trap without a word of asking, just as natural as milk.
I had business at the sweet shop with Mrs. Miller which that woman will complain about a bent pin if you let her, so Miss Alta said I might ride along.
"We shall go to the workshops today, if you please, Mr. Somerday," said Miss Alta when Mr. Somerday climbed up. "As it rains, we'll be less likely to disrupt a group of visitors."
He smiled at her and took the reins.
The shops make a neat little row: the cabinet makers and the straw-plaiters, the glassblower and the weavers, the sweet shop with its shelves of jellies and compotes, which that last is where Mrs. Miller works.  But today them shops lack bustle. It's too bad, too. July ought to be bringing daily tourists handling bonnets and jars of jam, but this rain which it's been raining for days now, keeps 'em all away.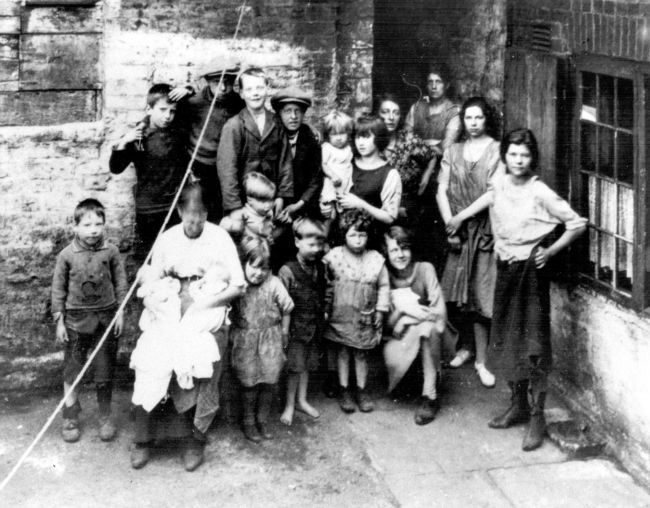 Miss Alta chose the plaiting shop first. I went with, for I had a parcel to give to Sarah Ruth. She is my niece which her father was brother to my David. That was Dan Tell, and he moved him and his wife and eight of his children out of Longmeadow and down to Bristol, for he was in business and wished to live in a port city. Sarah Ruth stayed back, which I expect she didn't want to live her life looking after them kids. It was good of Dan to let her stay here when he likely needed her there. But he's a loving pa to his kids, though he has so many it's right wonderful he can keep them straight. Sarah Ruth lives in a little house near Longmeadow Village with four other unmarried girls and Mrs. Couch looks after them, which she is kindly enough and a good cook too.
"Good morning!" said Miss Alta when we walked in.
"Good morning, Miss Alta," the girls said together. They nodded at Mr. Somerday, who greeted each of them by name. Sarah Ruth stood up to kiss me on my cheek.
There were three of them at work—Sarah Ruth, and also Louisa and Kitty. They're comely girls, even Sarah Ruth who is a little plump. Miss Maria likes to give them tourists their money's worth: if them girls were big-nosed or grey toothed, they'd more likely be jam cookers or baby tenders than here in this shop to be viewed by all. Similar to Arum House: them good looking young men, all them roses, that swing on the branch of the oak. Sometimes Longmeadow seems like a giant pantomime, but for the players being real people.
To be truthful, I will say that this idea of Longmeadow as a great stage don't come from my own head, but from Miss Juliet's.
"I wonder," I heard her say to Miss Maria during breakfast once, "why you are so adamant that the gypsies stay when they are universally unwanted. Perhaps you like them for their rough picturesqueness?  Maybe you think that any performance without a dark foil cannot be much fun."
Miss Maria just shook her head and sighed at Miss Juliet, as I recall.
—————–
Them plaiting girls sit on their little platform
behind the half wall that separates them from what ought to have been the tourists but today was only Miss Alta and Mr. Somerday and me. Their work tables are set close to big windows which let light in and fresh air too. Mr. Charles, bless his soul, placed a deal of value in fresh air. In this weather, though, the windows were closed and the lamps turned up.
"You are all alone," said Miss Alta.
"Yes," said Louisa. "The rain keeps them away."
"No one even just to watch us," said Kitty. "Not a soul."
"It may yet clear," said Mr. Somerday.
The girls nodded politely and went back to their plaiting.
I was about to leave on my errand when I heard Miss Alta say,  "I have always wondered how you do it. Could you teach me, do you think?"
Now I was born plaiting as is most lasses in these parts but I have yet to see a piece of straw in the fingers of a high born girl, which I was curious to see how she'd do at it so I lingered.
Sarah Ruth said, "Ah then, Miss Alta, You must have nothing better to do, I suppose, if you want to learn such a thing as this. But come around and we'll show you. Louisa's the best at it, oh now, Lou, don't be coy. She can do seventeen strands, she's that good."
"She's a right marvel," said Kitty. "This here English Wave is hers. No one else can do nothing near as good as this."
"I didn't realize this was yours in particular, Louisa," said Miss Alta. "Why, it really is ornate, isn't it."
"Very fancy," said I. "Not everyone can do that."
"Thank you, Miss," said Louisa to Miss Alta.
"And anyway," said Kitty, "how could you of known it was hers—that pattern–for they're all on the shelves lumped together with no way to tell who made what."
"It's all right, Miss," said Louisa, throwing a look at Kitty, "We know we're not meant to stand apart from one another. And Kitty and Sarah Ruth here, why, their stuff's as lovely as can be too. Now, would you like to try it yourself?"
"Shall I?" Miss Alta said to Mr. Somerday.
"And why not?" he smiled. "Your fingers are certainly slender enough for fine work such as these ladies do."
"Ladies!" giggled Kitty, while the other two smiled and blushed.
They showed Miss Alta how to sit for the task. "Now first," said Louisa, "look here." She held out her hands, palms up. "See the ends of my fingers?" she said.
"Oh my," said Miss Alta, "They look…"
All three laughed again. "Much like cow hide?" said Louisa. "Go ahead, Miss Alta, if you don't mind. Feel Kitty's and then mine."
"And mine," said Sarah Ruth.
Miss Alta felt their fingers. "Well, yes," she said, "you are right. They feel much like Bodger's leash."
The girls looked at each other and laughed when she said it which made Miss Alta blush as bright as a raspberry.
"I'm sorry!" she said. "That was very rude."
"Not at all," said Mr. Somerday, looking at the girls. "You took no offense?"
"No, no offense," said Sarah Ruth, "and we offered, didn't we. But they're something, ain't they, these fingers of ourn.  My mam, who plaited for ever so long, used to tell us that work changes a body– and this is what she meant by it.  Her own fingers was so rough from the years of it that she used to say she couldn't feel her own baby's cheek."
"That's right," I said, "that's exactly it."
"Let me see how to do it," said Miss Alta.
"Are you sure, Miss?" said Sarah Ruth. "For you'll be bleeding afore you've even begun."
"Let her try on that miscolored rye, there," said Kitty. "Beggin' your pardon, Miss. For we must keep the pretty stuff back."
"Of course," said Miss Alta. "That's wise."
"Very wise," agreed Mr. Somerday.
"Hold it this way," said Louisa. "You must hold seven strands at once, do you see?"
"Yes," said Miss Alta, "but they're quite stiff! My word! How do you make them do as you wish!"
"We wet 'em, is what," said Sarah Ruth. "See the vat there?"
"Your fingers is so white!" said Kitty absently.
"Kitty!" said Louisa.
"Oh, Miss," said Kitty, alarmed. "I'm sure I didn't mean anything. I'm sure I didn't."
"I know, Kitty," said Miss Alta. "Just show me how to bend this without breaking it. I cannot see how to do it at all."
"Here, Miss," said Sarah Ruth, "here's a rhyme we say to help us learn when we're little: over one, under two…."
"….pull it tight, and that will do," Louisa and Kitty and I finished for her, which I have knowed that rhyme all my life.
"Same old song," I said, and the girls smiled.
They helped Miss Alta for a quarter of an hour. Mr. Somerday watched, throwing compliments at her for trying. Finally her fingers were about as pricked as she could bear.
"I must stop," she said, "but thank you for showing me."
"Well now you know," said Louisa, smiling.
"It ain't easy to do is it?" said Kitty. "Now you know, for you've tried it yourself."
I looked hard at Kitty to see if she was whinging, for Miss Maria don't stand for whinging here at Longmeadow.
"No, indeed," said Miss Alta. "It obviously takes a great deal of skill."
"Indeed," said Mr. Somerday, "I have heard visitors say that your shop is the jewel of Longmeadow for the quality of the work you do. It's a favorite."
I saw Miss Alta look at him but as usual, I couldn't tell nothing from her expression. Lord, that girl keeps it in. It may be that she had the same question in her mind as did I.
Which was that I wondered if Mr. Somerday had spoke a little out of turn, which he didn't mean to do it. But here at Longmeadow, we try not to talk about which shop is favorite or which jam turned out best or whose chickens lay the biggest eggs. I might know my cherry cordial is ten miles better than Mrs. Johnston's, but I know better than to say it out loud. One, it ain't polite to Lord things over. Two, it don't make for a peaceful feeling betwixt us all.
But Kitty ain't known for her brains. When she heard what Mr. Somerday said about their shop being a jewel, she turned to the other girls and said "Haven't I told you it was so?" which it looked like they had often discussed this very thing. I noticed: Louisa bit her lip and sneaked a look at Sarah Ruth which it seemed like she had come upon a snarl in her plaiting.
I might have reminded Kitty that we're all for one and one for all, like Miss Maria says, but Miss Alta said very quick, "Mrs. Tell, did you say you had an errand? Mr. Somerday and I will visit Ben's shop while you're occupied and wait in the trap for you if you like." So Kitty got away scot free which she was lucky this time.
In truth, I took Kitty's meaning clear enough. It ain't nothing but pure human nature to hold yourself next to your neighbor, to see who's done better. Everyone does it, no matter if we should or shouldn't. When the county holds a fair-day, Mrs. Johnston don't sleep a wink for her careful icing of her Longmeadow White Cake for which she has took top prizes. The younger children show lambs, and the older, hogs, and they are praised and made much of for any honors they get. Miss Maria don't attend the fairs but I describe the award ceremonies to her if she asks.
"Lord," I said to her just two week ago, "you should have seen Mrs. Miller when that gooseberry jam took first place. Twas as if she was Admiral Nelson at Trafalgar, looking this a'way and that a'way for people to notice her, and smiling as broad as pie. I was standing right next to her and, as I am a Christian woman and was feeling charitable just then, I did not bother to say to her that that jam was a cooperating effort, no I didn't, and you'll forgive me, Miss Maria, 'cause it would have broke her heart right in two to have it pointed out to her. So I let it lay."
Such pridefulness worries Miss Maria. Trying to best your neighbor just don't fly at such a place as Longmeadow where the first idea is of equalness. Mr. Charles and Miss Maria tried from the beginning to lead us away from contests where a winner meant losers. Mr. Charles would have liked to ban the county fairs entire which even he could see that them Longmeadows would rise up in revolution if he did, so he gave up the idea.
And so, Mr. Charles and Miss Maria put a stop to races and contests, and instead said us sermons on hoops for the children and dancing and singing for adults. At our fetes we play Blind Man's Bluff, but not croquet; we don't have no contests of strength, but instead the young men chase a greased pig which can be done best when all work together toward the common goal.
But I understand the plaiting girls. They do not care to be unknown. They'd like a little credit. They're just girls and they wish for special treatment. Likely that's true of  all them who work the shops and farms of Longmeadow, from the great ones to the small.
Today was too bright a day for Miss Alta to leave the house; I believe she spent her time back with them creepy things she likes so much and then in her mother's office adding figures. At teatime, the doorbell rang and there stood Mr. Somerday, which he might as well walk in without ringing, for he's come for tea every day since he landed at Longmeadow, more or less. I brought him into the parlor and went to tell her.  I found her in the morning room now that the sun was in the west, sitting in a window-seat reading one of her Red Indian books.
I made Lil bring the tea. This was a point of disagreement between Miss Maria and Mr. Charles for a time, whether it was proper to have a girl to serve the tea. Mr. Charles said no, no one should serve no one else here at Longmeadow. "God gave me two legs in order that I can fetch my own tea when I want it," he said. Miss Maria said, yes dear, but what of our guests; they can hardly be expected… They compromised. (I'll tell you, I believe Grady was mouthing 'compromise' before he'd reached six.) Mr. Charles finally put it this way, "All right then, when we have guests, we will have servers who then may learn how to do it, so that if they'd like to explore the world on their own, they'll have that small skill. Though," he added, "I have no doubt that they will find, after having lived at Longmeadow, that the real world is not all it ought to be."
"Yes, dear," I remember Miss Maria smiling (which smiling was easy for her, for she had won her case to be served, of course) "and then we will welcome them back to us with open arms."
That made Mr. Charles feel better for he loved to think that if any of us left, it wouldn't be long before we returned to his fold, hat in hand, shaking our heads at what we'd seen outside of Longmeadow.
I had myself a cup and a chat with Mrs. Johnston back in the kitchen and then made a round of the house, which passed me right by the parlor, where Miss Alta and Mr. Somerday sat together as they drank their tea.
"Oh no, Alta," I heard Mr. Somerday say through the doorway, "I am sure you are quite wrong. I am certain that…what did you call her?"
"Whistling Bird," said Miss Alta.
"…Whistling Bird did what she did for love. I am sure that she was loved fully by her husband and he by her, though he was white, and she red. Her devotion illustrates it, does it not? Why else would she have died for him, as she did?"
I recognized the story. Often of a evening Miss Alta will read aloud from one of her Wild West books, and if I am about, I will listen. I remembered this one: when this Whistling Bird (what sort of name is that, for the dear Lord's sake) was but a young girl, she was taken from her tribe by a white man who was out hunting and came upon her in the wood and was besmitten. He married her though how Christian that wedding was, I cannot tell you. Some years later, her own people robbed her back to them, but by that time she loved him, so she starved herself to death when they would not let her return to him who she thought of as her husband.
Miss Alta spoke next. "I cannot say whether indeed she loved him or not, Mr. Somerday. It may be that she didn't. It may be that her devotion was borne of duty and nothing more."
I was surprised to hear Miss Alta say such. When she read the story to Miss Juliet, both young ladies sighed about the lovey part of it. Once, I catched eyes with Miss Maria about it and we both smiled like we was having a secret together. Young girls will believe in violets and roses, and who's to tell 'em they oughtn't?
"Alta, you are a cynic!" I heard Mr. Somerday say. "I wouldn't have thought it of you!"
I listened but she did not answer for a moment. And then she did.
"Well," she said, "I suppose I wonder about them, Mr. Somerday. It seems to me that when first they laid eyes on one another, they must each have felt a shock, as one feels when presented with something unfamiliar and perhaps bizarre. He must have seemed feeble to her; she must have seemed coarse to him.  It seems more likely that they felt antipathy rather than attraction. And then, you see, to have had to overcome such….disgust?"
"But Alta, they surely found each other's trueness through their actions. And in this way became beautiful to each other. All depends on the beholder, you know. In their case, love seems to have surrounded them like a flowering vine, blocking out any weeds of distaste at such a small a thing as a difference of feature."
"So," said Miss Alta quite slow, "it does not seem impossible to you, Mr. Somerday, to love someone who is so apart from you that they seem, perhaps, as if they were of an entirely different species?"
"Not at all, Alta. Not for me anyhow. I believe I could grow to love any pure heart, no matter her country, her language, her dress, her color."
And then, as I listened, I saw what it was I'd missed. I don't miss much, but I'd missed this.